Looking for a Future in HPC?
Hackers unite for a fun, engaging professional development event. HPC in the City aims to harness the resources, skills, and knowledge found in the HPC community in an effort to provide applied exposure for the student participants.

Bring your energy and enthusiasm. Leave with technical excellence, enabled by Omnibond and the NSF-funded Science Gateways Community Institute (SGCI) along with partners such as Intel HPC, Google Cloud, XSEDE, TACC, and Globus. We have joined forces in creating a diverse new generation of HPC data scientists and programmers.
Participants
You are the reason that this hackathon exists.
Participants are generally undergraduate and graduate students that have varied skill sets and a willingness to tackle the questions and/or projects posed by the mentors. Skill levels can vary from zero to expert which allows opportunities to collaborate and grow through the hackathon experience. You will work in a team setting during the hackathon. Your team will produce a set of deliverables (GitHub repository, with any associated code, and a PDF of a team presentation) and a final presentation given to the group.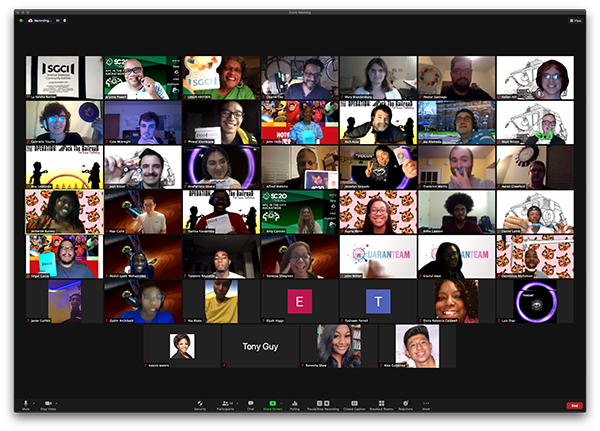 Benefits
What you get from the hackathon experience:
Tutorial sessions where you can gain in-depth expertise on HPC and Cloud topics.
One-on-one interactions with HPC professionals in the field — your team mentor's range from professors to programmers, to systems administrators, and professionals in the HPC industry.
Direct mentorship to lead you and your team in the design, development, and presentation of a chosen question that directly impacts the St. Louis area.
Use of Cloud and HPC common resources/tools (GitHub, Google Cloud, CloudyCluster, Jupyter Notebook, and more).
Opportunities to grow your network by meeting people in the community who are users, developers, and/or providers of Cloud and HPC resources.
Provided credits to use CloudyCluster and Google Cloud resources.
Prizes given to teams including Judges Choice Award, Viewers Choice Award, and HPC in the City Impact Award — each winning team member and mentor receives $100 USD in cash among other gifts.
The Meet & Greet will begin November 4.
SC21 Conference Registration awards will be available.
Logistics
Prior to the event, participants and mentors will be invited to several training events:
Data Science as a Project: Data Science Competition (TBA)
Mentor Training: September 30, 11 am ET
GitHub/Discord: October 7, 11 am ET
Google/CloudyCluster: October 14, 11 am ET
Data to Dashboard:

October 21, 11 am ET

Beginning to End Project Example: October 28, 11 am ET
The hackathon staff will schedule daily check-ins for the groups in which brief updates of work and goals will need to be given. Mini-challenges and games with prizes are conducted during each check-in alongside the team updates.
The last day of the event will include a team presentation as well as submission of deliverables (GitHub repository, with any associated code and a PDF of the team presentation).

Registration
Registration for the HPC in the City hackathon is FREE.
Those who register are strongly encouraged to attend the training events listed above in Logistics. Each training runs 60 minutes on Thursdays, beginning September 30. At those times we can also answer any questions you have about your participation, resources, or logistics.
Join us to harness the resources, skill, and knowledge found in the HPC community!